CALL FOR SUPPORT FOR A PALESTINIAN STATE!
http://www.gopetition.com/petitions/call-for-support-for-a-palestinian-state.html
MY TEACHER SAID THAT IF THE WORLD DON'T CARE FOR PALESTINE, PALESTINE WILL DISAPPEAR FROM THE MAP OF THE WORLD!
My uneducated mother from China said that the world must right this wrong, 'illegal israel' must be One democratic State, flying under the original flag of Palestine, period! If not, the world will not be in peace and harmony for the rest of our life!
Never Forget Palestine – Powerful Islamic Reminder
THE CONSCIOUSNESS WILL RISE UP TO SAVE PALESTINE!!
http://www.palestinebedrockoftheworld.com/the-consciousness-will-rise-up-to-save-palestine
Israel's occupation is a physical construct, bolstered by the building of both the separation wall and Jewish settlements throughout the West Bank, and by the destruction of properties and the seizure of Palestinian land. http://interactive.aljazeera.com/aje/2016/building-occupation/index.html?utm_source=Al+Jazeera+English+Newsletter+|+Weekly&utm_campaign=420320dfb2-weekly_newsletter&utm_medium=email&utm_term=0_e427298a68-420320dfb2-211230169
Steve Anderson
September 5 at 7:36pm
This guy is good, fucking good.. This guy is on American radio and it obviously isn't controlled by Zionists, yet.. All in English.. Watch it please and do share it.
God Gave This Land To Me!– https://www.facebook.com/alkaherawalnas/videos/1022951841062582/
[ENG SUBS] Shaheed Mutahhari I Historic Speech on Palestine
http://www.palestinebedrockoftheworld.com/my-journey-was-never-about-palestine/
Put Palestine first – By A.B. YEHOSHUA
http://www.palestinebedrockoftheworld.com/put-palestine-first/
"Palestine is a global cause and we are all Palestine"
http://www.palestinebedrockoftheworld.com/palestine-is-a-global-cause-and-we-are-all-palestine/
The fight for Palestinian justice is an essential part of the fight for democracy around the world.
http://www.palestinebedrockoftheworld.com/the-fight-for-palestinian-justice-is-an-essential-part-of-the-fight-for-democracy-around-the-world/
THE 7 EVIL AMERICAN ZIONIST BITCHES BLOCKING THE PETITION
On Friday, February 12, 2016 10:46 AM, marie <marie@hotmail.com> wrote:
Dearest Sunflower,
As always, I am sending Janie's message as soon as I receive it….hope you like the news on the views of CCB #6! The petition news is not so good.
Love you, Marie
From: Jane <jane@hotmail.com>
Sent: Friday, February 12, 2016 6:42 PM
To: marie ; hair dresser
Subject: Feedback!
Dear Marie and Steve,
I have feedback on CCB #6 and it's mostly good! First 24 hours views according to YouTube tech people: 624,559 VIEWS! That's a new record! http://thepoisonappleoftheworld.com/ccb-creaming-6-an-ultimatum-for-the-babylonian-joos-on-palestine/
Now on the down side, I got this comment:
"Shitflower, you scuzzy bitch! We are going to do everything possible to block the idiots who follow your lying blogs from communicating on World Harmony Day! http://thepoisonappleoftheworld.com/where-is-solutions-institute-president-dan-johnson-integrity-because-he-wiped-out-world-harmony-day-site/ We proud and beautiful Zionist women are also going to make sure that shit petition doesn't move…. Scumflower, had any complaints about accessing the petition, you Singaporean whore? http://www.gopetition.com/petitions/call-for-support-for-a-palestinian-state.html We will yet use your mop of hair for toilet paper to wipe our superior Zionist asses!!!"
OK, that's all I have so far. Love to you both and my dear Sunflower!
Janie
HELLO, BYE BYE ILLEGAL ZIONIST ISRAEL!
http://thepoisonappleoftheworld.com/hello-bye-bye-illegal-zionist-israel/
6th CCB Creaming – An Ultimatum for the Babylonian Joos on Palestine!
Published on Feb 10, 2016
Our lovely heroine, Sunflower, takes on the Zionists yet again and reveals the truth about their treachery and evil plots. This is her brave "Ultimatum for the Babylonian Joos on Palestine!" She will reveal 10 Big Lies the Zionist Babylonian Joos try to perpetrate in this world of ours. Please sign the petition at: http://www.gopetition.com/petitions/c… This is her brilliant landmark speech before she will once again be creamed for her cause! Thank you for supporting her and the Palestinians!
13 February 2016
My Dearest 7 Billion Brothers & Sisters,
It is Now or Never to claim back our World on World Harmony Day 20th February 2016  http://www.palestinebedrockoftheworld.com/it-is-now-or-never-to-claim-back-our-world-on-world-harmony-day-20th-february-2016/
It is all because of this petition calling for a Palestinian State that has enabled me to go so far, but how and why has that happened? If the 7 bitches had not attacked my friends for signing the petition, I would not have realized how afraid the Zionist Bitches are of popular support for Palestine! Not only did these evil Zionist Bitches go to Geena's Saloon and Steve's apartment, but they attacked them both with fierce creamings, but Geena was force fed with cream in her mouth! Both were thoroughly shaving cream shampooed and publicly humiliated for supporting the cause of a Palestinian State! This creaming humiliation boiled my blood! How dare they?  http://thepoisonappleoftheworld.com/geena-exposed-the-7-zionist-jew-witches/ http://thepoisonappleoftheworld.com/vicious-zionist-jew-womens-humiliation-attack/
WE MUST STAND UP FOR JUSTICE AND THAT'S WHAT I HAVE DONE WHEN I DID ALL THESE 6 CCB CREAMINGS AND NOW LEFT ONE MORE TO GO!! The 7th CCB Creaming Speech will be "THE WORLD WITHOUT AMERICA!" http://thepoisonappleoftheworld.com/what-happens-after-the-us-dollar-collapse/
The carnage in Gaza  http://www.palestinebedrockoftheworld.com/it-is-genocide-in-gaza/ & http://thepoisonappleoftheworld.com/gone-with-the-wind-israel/ compelled my conscious that I need to do something and thus the birth of my 2 political blogs bringing out the truth about the evilness of Zionism. Israelis Ignore the Gaza Ghetto Until the War Drums Are Heard http://www.palestinebedrockoftheworld.com/what-i-saw-in-gaza/
Uncut Chronicles: Gaza-Israel War. Deadly July 2014
Published on Aug 3, 2014
The IDF (Israeli Defense Forces) began their current operation against Hamas after three teens were kidnapped and killed. The military op has already claimed over 1,500 civilian lives in Gaza. The fragile humanitarian ceasefires end within minutes of creation pushing the region into further bloodshed.
Tony Silver – Kopenhagen 2016-02-05 21:10
@Desert Eagle 50 What if Tel Aviv was gaza? Imagine if it were jews being held captive in a ghetto humiliated and under siege, surrounded by an Arab army with far better weapons….. Would we call the jewish resistance terrorists? Is it not true that terrorist atrocities were carried out by early zionists?
If you read the Petition's Birth http://www.palestinebedrockoftheworld.com/petitions-birth/ you know that I started off like many others, supporting the 2 state solution. But as I have gone deeper into the understanding of the Israeli and Palestinian conflict I realize it is not such a simple solution and here the reason:
Mossad Murdered the 3 Israeli Boys..
THE ZIONIST ISRAELI MOSSAD is the world's most ruthless killing machine …No victim, including Jews, is sacred when it comes to achieving Fascist Apartheid Israeli terrorist ambitions….They engineered the U.S. 9/11 Terrorist attacks….Fukushima sabotage…Tianjin nuke and most importantly not forgetting Holohoax !!
My main concern is the extent to which the evil Zionist Joos will go in threatening the leaders of the world. Look how they demanded US$100 Billion from Japan and Japan was ready to officially recognize Palestine. And because they refused to submit to the extortion of the evil Zionist Joos, they nuked Fukushima! http://thepoisonappleoftheworld.com/evil-zionist-israel-is-responsible-for-fukushima-sabotage/ And look what had happened to Princess Diana because she was about to announce her support for Palestine and the so-called 'Royal Family' had her killed! http://www.middleeastrising.com/video-is-this-the-reason-why-princess-diana-was-assassinated/
That Scumbag Netanyahu is unbelievable! He warned France that it would be a "grave mistake" for the French parliament to follow suit of several other European nations in recognizing a Palestinian state in a vote scheduled for early December. Who does this asshole think he is to behave in such a threatening manner! Does 'illegal Israel' own the world and does the world owe them something? http://smoloko.com/?p=4103#comment-19294 & https://www.rt.com/news/208187-israel-france-grave-mistake/ And do you know the whole story of the "refugee crisis" http://www.redicecreations.com/article.php?id=35186#.Vq__LYErC8s.facebook
Enough is Enough, these evil Zionist Joos must be STOP! We must stand together to defeat our common enemy because if you don't take action to bring these devils down once and for all the future looks very bleak! Their capacity for evil has no boundaries just like 'illegal Israel' has no boundaries! Once they use the Samson Option then it will be WW3!!  http://thepoisonappleoftheworld.com/enough-is-enough-the-evil-babylonian-joos-must-be-destroy/
Never in their miserable lives did these 7 evil Zionist Bitches imagine there would be someone like me who would dare to challenge them! There is a Mossad office, a CIA office and a Freemason Lodge in Singapore, yet I have no fear, and instead I have challenged these organizations to come after me! I'm just an ordinary person and I can't do much to make things right but the least I can do is to speak up! "All tyranny needs to gain a foothold is for people of good conscience to remain silent." – Edmund Burke
NO JEWISH STATE INSTEAD ONE DEMOCRATIC STATE FOR ALL ISRAELIS & PALESTINIANS!!

WE MUST GET RID OF THE EVIL ROTHSCHILD AND HIS GANG, ESPECIALLY SHELDON ADELSON! WE SHOULD DO WHAT PUTIN THE GREAT AND PRESIDENT XI ARE DOING; JUST BRING DOWN THE CABALS BUT THE AMERICAN PEOPLE ARE NOT HURT ALONG THE WAY. THEY MAY BE TEMPORARILY BUT THAT DEPENDS ON HOW THE EVIL ZIONIST JOOS FIGHT BACK!
IF AND WHEN WE ARE CALLED UPON TO CATCH ALL THE BAD PEOPLE, WE MUST ACT ON THE DOUBLE TO ASSIST IN THIS ENDEVOUR! SO, MY AMERICAN BROTHERS & SISTERS, YOU HAVE SO MANY BAD PEOPLE AROUND YOU, PLEASE CONNECT AND SET UP GROUPS TO ENABLE ALL OF YOU TO DO A GREAT JOB. REMEMBER, WE ARE ALL CONNECTED SPIRITUALLY AND OUR CONSCIOUS MIND WILL BE UNSTOPPABLE TO DO WHAT IS GOOD FOR HUMANITY !
SUPPORT FROM WORLD LEADERS COMING TOGETHER TO STAND BY PALESTINE!
Palestine: A State Under Occupation
http://www.timesofisrael.com/abbas-palestine-a-state-under-occupation-no-longer-bound-by-oslo-accords/
State of Palestine Flag to Fly at United Nations Headquarters, Offices as General Assembly Adopts Resolution on Non-Member Observer States
http://www.un.org/press/en/2015/ga11676.doc.htm
First Palestinian embassy in W. Europe opens in Sweden
https://www.rt.com/news/231107-palestine-first-embassy-sweden/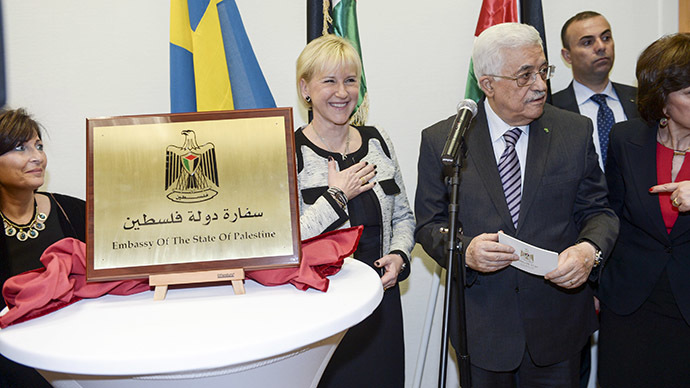 De Gaulle sa vision du sionisme et du conflit Israel Palestine – 1967
Uploaded on Feb 18, 2012
Discours de De Gaulle sur le conflit Israel Palestine et sa vision du sionisme – 1967
peu de temps avant son "eviction" permise par mai 68..
Adolf Hitler's Warning!
Adolf Hitler Last speech !!WAKE UP WORLD!!
The Radical Homosexual Movement Is Run By Jews
WE MUST DO OUR BEST TO WAKE ALL OUR BROTHERS & SISTERS THAT WE MUST BE PROACTIVE IF NOT THE WORLD WILL BE DESTROY BY THE EVIL ZIONIST JOOS AND SATANIC PEDOPHILIA WHO RUN THE GOVERNMENT!! Satanic Pedophilia Network Exposed in Australia — It Starts at the TOP, Just Like in the USA and UK http://humansarefree.com/2016/02/satanic-pedophilia-network-exposed-in.html
IF WE DESIRE TO LIVE IN A HARMONIOUS WORLD WE 7 BILLION MUST PLAY OUR PART NO MATTER HOW SMALL IT IS BECAUSE YOU ARE NOT A DROP IN THE OCEAN. YOU ARE THE ENTIRE OCEAN, IN A DROP!!
China and Russia will do all their best to create a Just World http://sputniknews.com/world/20160119/1033354000/china-russia-stand-together.html and we 7 Billion Humanity must support them all the way for it to happen! And I strongly believe our love for Almighty God will enable us to do our very best to make it and I believe World Harmony Day is an ideal platform to foster such a grand aspiration! Hence, I hope on 20th February 2016 at 8.02pm all humanity will hold a lighted candles and reconnect with the High Above and pledge to HIM that WE WILL STRIVE FOR A HARMONIOUS WORLD ORDER and in the near future United Nations will be named HARMONIOUS NATIONS!

This was what Belarus Gander said on facebook,"Being Russian is not only by blood like some of us are or by birth as some others are. Being Russian is a state of mind and soul. It is having a clear, well trained, and disciplines mind. Being Russian most importantly is to have a good soul. Not a perfect soul that only occurs in the afterlife (if you accept such notions), but a good soul that seeks the benefit of all and the good and worth of people. Being Russian also means standing for right and goodness when confronted by evils such as we see in our world perpetrated by countries like the US and UK."
We 7 billion Humanity must emulate the Russians spirit in fighting for justice and we are so blessed because we have President Xi and President Putin to FREE OUR WORLD BY FREEING PALESTINE!
Love, light, peace, harmony and unity,
Sunny Chong Sun Wah
What A Palestinian said!
Did you know the Romans changed the name of Israel to Palestine? Did you know the indigenous people of Israel never left…they are today's Palestinians. Today's Israelis are Settlers they are Pilgrims, they are Colonialists. Nothing more, they are killing the true children of Israel.
I am a Palestinian, I am a Semite, I am a literal descendent of Jesus' family, and by supporting Israel You are KILLING Jesus's literal flesh and blood family! Look it up, Jesus was a Palestinian man born in Judea to the tribe of Judah, set to death by the Jewish body. Sound Familiar? Israel today Killing, Expelling and occupying native Palestinians?
Think about who you support…Think about people, for the sake of humanity.
The land was promised to the Israelites, When the Romans renamed our country to Palestine they did not change our blood nor our home. We never left. Palestinians are the Israelites.
Waleed says:
December 29, 2014 at 5:41 am
Wow, what a confused world we live in today. My family members were cut to pieces with butcher knives by Israeli Mossad agents in 1948, I have a deed to our family's farm in Palestine but of course the Israeli settlers burnt our orange and lemon farms to the ground, torched our homes and forced me to live in a refugee camp in Gaza as a stateless person. Today Israel has built the world's largest apart wall in history but nobody bats an eye?? A confused world indeed. The ironic part is, the settlers in 1948 after the Arab exodus were Hungarians, not Hebrews… Remind you of Home guys?? Was the United States not stolen from the native people? Think about it. Maybe you should do your facts before blindly supporting something because you were told too. For God's sake do some research, how would you feel if someone came into your home and killed your family members and told you it was their home??
Google the Arab Exodus of 1948 or the Belfour declaration, learn something about the Native Palestinians that isn't propaganda and lies. You should always question the things you are told to support. No matter how good you think Israel is, the state of Israel is not good and it is not the authentic Israel.
10 Big Media Lies About Israel
Michel Collon, a Belgian journalist and author, in his book "Israel, let's talk about it," has slammed European media over decades of "lying" to people in order to support Israel.
Collon, in his book, has recounted "10 big lies" spread by Western media in order to "justify the existence and actions of Israel", which are concisely presented below:
1. The first lie is that Israel was established in reaction to the massacre of Jews during the World War II.
http://thepoisonappleoftheworld.com/isis-ra-is-el/
This notion is completely wrong. Israel is in fact a domineering project which was approved in the First Zionist Congress in Basel, Switzerland, in 1897, when nationalist Jews decided to occupy Palestine.
2. The second justification for establishing and legitimizing Israel is that the Jews are returning to their forefathers' land, from where they had been driven away in 70 A.D.
http://thepoisonappleoftheworld.com/history-of-how-israel-was-created/
This is a tale. I have spoken to the famous Israeli historian Shlomo Sand and other historians and they all believe that there has been no "exodus," so "return" is meaningless. The people living in Palestine have not left their land in the ancient era.
In fact the descendants of Jews residing in Palestine are the people who are currently living in Palestine. Those who claim they want to return to their lands originate for Western and Eastern Europe and Northern Africa.
Sand says there is no Jewish nation. The Jews do not have common history, language or culture. The only common thing between them is their religion, and religion does not make a nation.
3. The third lie is that when Jewish immigrants occupied Palestine, it was an empty and uninhibited country.
http://www.palestinebedrockoftheworld.com/israel-claimed-palestine-was-a-desert-not-a-country/
However, there are documents and evidences that prove that in the 19th century the agricultural products of Palestine were exported to different countries, including France.
4. Fourth, some people say Palestinians left their country on their own free will.
http://www.palestinebedrockoftheworld.com/babylonian-joos-murdered-the-palestinians-nakba/
This is another lie, which lots of people believed, including myself. Until Israeli historians like Benny Morris and Ilan Pappe said that Palestinians were driven away and banished from their lands by using force and terror.
5. It is said that today Israel is the only democracy in the Middle East and it should be protected; it is the "government of law."
http://thepoisonappleoftheworld.com/the-yinon-plan-greater-israel-syria-iraq-and-isis-the-connection/
But in my opinion not only it is not the government of law; it is the only regime that no law defines its territory and boundaries. All the countries of the world have a constitution which defines their boundaries, but no such thing applies to Israel. Israel is an expansionist project which knows no boundary, and its law is completely racist; according to this law Israel is the country for Jews, and its non-Jew citizens are not considered human. Such law is a contradiction to democracy.
6. It is said that the US tries to protect democracy in the Middle East by protecting Israel.
http://www.palestinebedrockoftheworld.com/us-why-do-you-allowed-zionist-israel-to-burn-gaza-to-ashes/ (The evil Zionist Joos deleted most of the images! You scumbags you dare to do it then why you afraid to show it!)
And we know that the US annual financial aid to Israel amounts to 3 billion dollars. This money is used for bombarding Israel's neighbor countries.
But America is not after establishing democracy in the Middle East; it wants the undisturbed flow of oil.
7. They pretend that the US seeks an agreement between Israel and Palestine.
http://www.palestinebedrockoftheworld.com/how-can-the-world-trust-america-to-be-a-fair-broker/
http://thepoisonappleoftheworld.com/if-youre-an-american-you-should-see-this-for-real/
http://www.palestinebedrockoftheworld.com/the-palestinian-conflict/
This is also completely wrong and a lie. EU former Foreign Policy Chief Javier Solana told the Israel that "you are the 21st country of the European Union." The European weapons industries cooperate with the Israeli military industries and support them financially. But when Palestinians elected their government, Europe did not recognize it and gave the green light to Israel to attack the Gaza Strip.
8. When one talks about these facts and the history of Israel and Palestine, when one reveals the US interests in this situation, they call you anti-Semite to keep you silent.
http://www.palestinebedrockoftheworld.com/utter-rubbish-dream-on-you-evil-zionist-jews/
http://thepoisonappleoftheworld.com/racism-in-zionist-jews-dna/
But we should say that when we criticize Israel, it is not racism or anti-Semitism. We criticize a government that does not believe in the equality of Jews, Christians and Muslims, and so destroys the peace between followers of different religions.
9. The mass media say that Palestinians cause violence and terrorism.
http://www.palestinebedrockoftheworld.com/the-world-is-crying-for-the-palestinians/
http://www.palestinebedrockoftheworld.com/the-world-is-crying-for-gaza-the-carnage-must-stop/
http://www.palestinebedrockoftheworld.com/tutu-my-plea-to-the-people-of-israel-liberate-yourselves-by-liberating-palestine/
http://www.palestinebedrockoftheworld.com/noam-chomsky-cried-for-gaza/
We say Israel army's occupation is violence, the policy that has stolen land and home from Palestinians is violence.
10. An issue which is often raised is that there is no way for resolving this situation, and there is no solution for the hatred and the grudge caused by Israel and its accomplices.
http://www.gopetition.com/petitions/call-for-support-for-a-palestinian-state.html
But there is a solution. The only thing that can stop this process is the public pressure on the accomplices of Israel in the US and Europe and other parts of the world; public pressure on the mass media which refrain from telling the truth about Israel; and using the Internet or any other media out let to publish real news about Palestine.
YES THERE IS ONLY ONE SOLUTION A DEMOCRATIC STATE UNDER THE FLAG PALESTINE!
My 7 billion Brothers & Sisters, the evil Zionist Joos still blocking this petition for a Palestinian Homeland and the assholes will keep getting you click here click there like what my friend told me but YOU DON'T GIVE UP and remember the phrase SLOW AND STEADY WIN THE RACE AND WE WILL WIN AND BY FREEING PALESTINE WE ARE FREEING OUR WORLD FOR OUR CHILDREN'S CHILDREN SO THIS SACRIFICE IS WORTH IT!!!!!!!
THE DRAGON FAMILY ULTIMATUM
http://thepoisonappleoftheworld.com/the-dragon-family-ultimatum/
YOU SEE THE DRAGON FAMILY IS HELPING ALL OF US AND WE 7 BILLION HUMANITY JUST BOYCOTT ISRAELI PRODUCTS BY USING THE PHONE APP!!!!!!!!!!!!!!!!