FUCK ISRAHELL !!!!!!!
Updated 11 hours ago
"ISRAEL MUST BE DESTROYED FOR THE SAKE OF HUMANITY"
ISRAEL IS AN ILLEGAL STATE OF TERROR , THE ISRAELIS ARE A MADE UP PEOPLE WHO ARE ILLEGALLY OCCUPYING THE LAND OF PALESTINE, WHILE THEY CONTINUE TO KILL PALESTINIANS AND STEAL LAND THAT THEY HAVE NO RIGHT TO WHATSOEVER ,,,, "" FUCK THE ILLEGAL TERROR STATE OF ISRAEL "" ISRAEL IS AN EVIL ILLEGAL BLOOD THIRSTY STATE OF WORLDWIDE TERRORISM ….. "" FUCK ISRAHELL "" From the very morning aircraft smashed into the World Trade Center (WTC) and the Pentagon, news reports have indicated Israeli intelligence being involved in the events of 9/11 – and the planting of "false flags" to blame Arab terrorists and mold public opinion to support the pre-planned "war on terror."
Shortly after the destruction of the twin towers, radio news reports described five "Middle Eastern men" being arrested in New Jersey after having been seen videotaping and celebrating the explosive "collapses" of the WTC.
These men, from a phony moving company in Weehawken, N.J., turned out to be agents of Israeli military intelligence, Mossad. Furthermore, their "moving van" tested positive for explosives.
Dominic Suter, the Israeli owner of Urban Moving Systems, the phony "moving company," fled in haste, or was allowed to escape, to Israel before FBI agents could interrogate him. The Israeli agents were later returned to Israel on minor visa violations.
Derrick Ferguson posted in Condemn Zionism
THE COUNCIL OF FOREGIN RELATIONS OR COMMONLY KNOWN AS THE C.F.R. IS THE AMERICAN BRANCH OF THE ILLUMINATI. THIS 1967 RECORDING IS PROOF AND FROM MY 5 YEARS OF RESEARCH IT IS VALID AND TRUE. THE ROTHSCHILDS/ROCKEFELLAS PLOT FOR THE TALMUDIC ASPIRING ONE WORLD GOVERNMENT IS INTELLIGENTLY EXPLAINED IN DETAIL FROM THIS VINTAGE RECORDING. A MUST TO LISTEN. — with Lissa Mires and 19 others.
WW3 Foretold in 1967: Islam vs Zionism – Until All is Destroyed
This recording was made in 1967. Mr. Myron C. Fagan gives documentary evidence on how the ILLUMINATI became the instrument of the House of Rothschild in their endeavor to achieve a "One World Government". He uncovers many plots of historical events. All this makes chilling listening! What he speaks of way back in the '60s is truly coming to fruition as we speak. World War Three comments begin at 38-minute mark.
JoanJohn Stukes posted in ANTI-ZIONIST…
Who exactly (person, place or thing) did the Zionists declare independence from?
Declaration of Israel's Independence 1948 Issued at Tel Aviv on May 14, 1948 (5th of Iyar, 5708)
The land of Israel was the birthplace of the Jewish people. Here their spiritual, religious and
national identity was formed. Here they achieved independence and created a culture of national and
universal significance. Here they wrote and gave the Bible to the world.
Exiled from Palestine, the Jewish people remained faithful to it in all the countries of their
dispersion, never ceasing to pray and hope for their return and the restoration of their national freedom.
Impelled by this historic association, Jews strove throughout the centuries to go back to the land
of their fathers and regain their statehood. In recent decades they returned in masses. They reclaimed
the wilderness, revived their language, built cities and villages and established a vigorous and
ever-growing community with its own economic and cultural life. They sought peace yet were ever
prepared to defend themselves. They brought the blessing of progress to all inhabitants of the country.
In the year 1897 the First Zionist Congress, inspired by Theodor Herzl's vision of the Jewish State,
proclaimed the right of the Jewish people to national revival in their own country.
This right was acknowledged by the Balfour Declaration of November 2, 1917, and re-affirmed
by the Mandate of the League of Nations, which gave explicit international recognition to the historic
connection of the Jewish people with Palestine and their right to reconstitute their National Home.
Kabbalists also believe God is unknowable and has no form. In contrast, true religion assumes God is present in the human soul. Obeying this voice, (conscience) is what makes us human.Kabbalist "Destruction" Doctrine Behind War
http://henrymakow.com/the_destuctive_principle_of_th.html
Why are Zionists at the forefront of provoking war, past & present?From May 24, 2011, this key article suggests that all wars are designed to kill and weaken the goyim, who are more than willing dupes.
Below,
a man looks over the expanse of ruins left by the explosion of
the atomic bomb in Hiroshima,
Japan.
Kabbalists also believe God is unknowable and has no form. In contrast,  true religion assumes God is present in the human soul. Obeying this voice, (conscience) is what makes us human.
.
(AP Photo)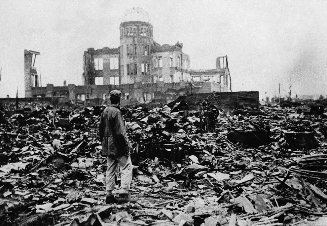 by Henry Makow Ph.D
The Kabbalist Doctrine of Destruction provides a key to understanding world events.
According to the Kabbalah, which is the secret doctrine of Judaism and Freemasonry, "Evil and catastrophe [are] endemic factors in the process of creation. Without evil there could be no good, without destruction, creation could not take place." (Kabbalah: An Introduction to Jewish Mysticism, by Byron L. Sherwin, p. 72.)
Kabbalists believe the Old (Christian) Order must be ruthlessly destroyed before the New (Satanic) World Order, based on the Kabbalah, can be built.
Hence, the Illuminati motto: "Order Out of Chaos." Hence, the Communist Manifesto advocates the destruction of nation, religion and family and the transfer of all private wealth to the Illuminati bankers, in the guise of the state.
The Doctrine of Destruction explains why war and revolution have been characterized by a gratuitous orgy of genocide, terror and destruction.
It explains the banishment of God from public discourse and the widespread acceptance of obscenity, pornography and the occult. It explains the attack on gender and the promotion of homosexuality to heterosexuals.
It explains why humanity seems cursed by never-ending crises and catastrophes — economic, political and natural. I believe they are engineered by the Illuminati to attack and destroy anything that smacks of the healthy divine order — spiritual or natural.
GAZA WAR CRIMES GALLERY
http://sabbah.biz/mt/archives/2012/11/21/gaza-war-crimes-gallery/
YOU KNOW WHY BYE BYE ILLEGAL ISRAEL?
1) THE JEWISH DNA  IS "FAKE JEW". IF THE ZIONIST JEWS CLAIMED ISRAEL IS A JEWISH STATE THEN THE FIRST ONE TO PACK THEIR BAGS IS THE ZIONIST JEWS BECAUSE THEY ARE THE KHAZAR'S WAR LORD PEOPLE!
2) BECAUSE THE GREEDY ZIONIST ROTHSCHILD WANT 100% OF PALESTINE! FROM A PEOPLE WITH NO LAND THE ZIONIST JEWS HAD STOLEN MORE THEN 80% THROUGH DECEIT AND VIOLENCE AND STILL THEY WANT MORE! SO WHERE ARE THEY GOING TO HOUSE THE 5 MILLION AND MORE PALESTINIANS PEOPLE?
TELL THE WORLD WHAT ARE YOU GOING TO DO TO THE 5MILLION PALESTINIANS, KILL THEM ALL!!!!!
NYT obit of rabbi left out his urging Sharon: 'Very simply, wipe them out'
The report includes some shocking quotes from the late Rabbi David Hartman, which appeared in the Washington Post in March 1, 2002, at the height of the Second Intifada, when he urged Prime Minister Ariel Sharon to be more brutal:
"Which population in the world would allow itself to be intimidated and terrified as this whole population is, where you can't send your kid out for a pizza at night without fear he'll be blown up?" said David Hartman, a rabbi and philosopher who runs a think tank in Jerusalem. "The frustration is, 'Sharon, we thought you'd show our power."
"Let's really let them understand what the implication of their actions is. . . . Very simply, wipe them out. Level them."
The Zionist Jews are Inhumane Sociopaths
THESE EVIL ZIONIST JEWS KNOW NO LIMIT THEY EVEN WANT THE WHOLE WORD UNDER THEIR CONTROL. WHAT UTTER RUBBISH THEY MUST BE OUT OF THEIR CRAZY MIND!! ON TOP OF IT THEY WANT TO POISON US BY MONSANTO GMO!!
WITHOUT THE INTERNET YES BUT NOW WE GOT THE INTERNET YOU CANNOT HIDE FROM US ANYMORE BECAUSE WE KNOW THE TRUTH AND THE INTERNET HAS EXPOSED ALL YOUR EVILNESS AND MY BLOG IS A PROOF OF IT.
WE, THE CITIZENS OF THE WORLD WILL NOT ALLOW ISRAEL TO START WW3 BECAUSE WE GOT THE  THE BRICS, AND THEY WILL SAVE OUR ONE WORLD!
Liberal Zionists and rightwingers shed differences in effort to save the Jewish state
Philip Weiss on February 14, 2014
The Israel Policy Forum has sent a letter to Netanyahu supporting John Kerry's framework. The signatories represent a "broad cross-section of the American Jewish community," and the letter is a nudge-nudge to Netanyahu to do the right thing, because Israel is at risk:
We believe Secretary Kerry's determined diplomatic effort offers an unprecedented opportunity to ensure Israel's security, to enhance its prosperity, and to avoid the existential threat to the Jewish state posed by bi-nationalism.
What I find most remarkable is that Israel-right-or-wrong folks like Alan Dershowitz, Barney Frank, Lester Crown of the Council on Foreign Relations, Charles Bronfman (funder of Birthright Israel) and Michael Adler of AIPAC signed up alongside liberal Zionists like Peter Joseph and Roly Matalon and Neil Barsky (partnered with Bill Keller on a new liberal criminal-justice website). And let's call David Axelrod a liberal Zionist. And all at the behest of a group that was once liberal Zionist and employed MJ Rosenberg.
What this demonstrates is that as the two-state paradigm crumbles inside our discourse, the lobby will cease to be divided and everyone will be "liberal Zionists," in the sense that they are seeking to pressure the Israeli government, even AIPAC. And all will be "rightwing Zionists" in the sense that they're raising fears about a binational state and saying nothing about Palestinian human rights. In short, we are approaching a period in which American Zionists will be called upon to say how important a Jewish state is to them, and if it's important, put aside your differences and sing out in one voice. Roger Cohen's angry denunciation of BDS is in this category; he really cares deeply about the Zionist dream.
My disappointment here is that good liberals like Barsky and Matalon are signing on. Though I predict that the great payoff of the period we're approaching is that some of the liberal Zionists are going to shed their Zionism entirely– as Communists ran for the exits in the 1950s– because it's anachronistic, or because it has never relieved Palestinian discrimination, for one second, or because they've been publicly shamed. And then good folks like Peter Beinart will ultimately come out against Zionism. His book of two years ago The Crisis of Zionism was prompted, he writes in the introduction, by a horrifying scene on the West Bank, from 2010. Well those conditions haven't changed; families are still being torn apart and arrested because they dare to resist settlers' incursions. And how long can an ideology be in crisis before you say it's bankrupt?
Here's the letter.
Dear Prime Minister Netanyahu:
At this critical juncture for the Israeli-Palestinian negotiations, we write to express the sentiment of a broad cross-section of the American Jewish community in support of your continued efforts to pursue a negotiated resolution to the Israeli-Palestinian conflict based on two states for two peoples.
As American advocates for a strong, Jewish and democratic Israel, we have been heartened by Secretary of State John Kerry's extraordinary resolve to advance this process consistent with America's unwavering commitment to Israel's security. We believe Secretary Kerry's determined diplomatic effort offers an unprecedented opportunity to ensure Israel's security, to enhance its prosperity, and to avoid the existential threat to the Jewish state posed by bi-nationalism.
It is our hope that President Mahmoud Abbas will join you in demonstrating leadership to advance these talks. By moving forward at this time, we believe that the Palestinian leadership will be challenged to make important compromises, to end incitement and to demonstrate a genuine preparedness to live in peace alongside the nation-state of the Jewish people.
Mr. Prime Minister, at this pivotal moment of decision-making, we offer our support and encouragement as you move forward to pursue a lasting agreement that will protect Israel's security as a homeland for the Jewish people.
Sincerely,
Daniel H. Adler
Lawrence C. Gottlieb
Alan J. Patricof
Karen R. Adler
Fred Gould
Richard Pearlstone
Michael M. Adler
Laurence Greenwald
Debra Pell
Harold Akselrad
Jeffrey Gural
Bettina Plevan
David Avital
Rabbi Steve Gutow
Isaac Putterman
David Axelrod

David A

. Halperin
Steve Rabinowitz
Neil Barsky
Harold R. Handler
Debra L. Raskin
Robert A. Belfer
J. Ira Harris
Marcia Riklis
Jack C. Bendheim
Andrew Hauptman
Ed Robin
Karyn Bendit
Oren Heiman
Elliott H. Rose
Michael Berenbaum
Jeff Hoffman
Lenore Ruben
Howard M. Bernstein
Rabbi Rick Jacobs
Kerry Rubinstein
James J. Binns
Alan S. Jaffe
Rabbi Peter J. Rubinstein
Edward Blank
Peter A. Joseph
David Sable
Herb Blecker
Rabbi Jeremy Kalmanofsky
Richard A. Salomon
Edward Bleier
Gerald D. Katcher
David Sands
Ellen Block
Nancy K. Kaufman
Rabbi David Saperstein
Stanley Bogen
Francine Klagsbrun
Rabbi Yehuda Sarna
Charles R. Bronfman
Samuel Klagsbrun
Rabbi Marc Schneier
Matthew Bronfman
Robert P. Kogod
Jeff Schoenfeld
Steven M. Cohen
Sidney Kohl
Jeffrey Schwarz
Jerome Congress
Jonathan Kolber
William J. Schwartz
Rabbi Rachel Cowan
Peter S. Kolevzon
Jack Silver
Lester Crown
Rabbi

Irwin Kula

Rabbi Joel Thal Simonds
Charles de Gunzburg
Yehuda Kurtzer
Rabbi Felicia L. Sol
Scott Delman
Sheila Lambert
Jeffrey R. Solomon
Alan M. Dershowitz
Burton Lehman
Ambassador Alan D. Solomont (ret.)
Thomas A. Dine
Marvin Lender
Alan P. Solow
Rabbi Denise L. Eger
Rabbi Marion Lev Cohen
Steven L. Spiegel
Joel S. Ehrenkranz
Bruce Levenson
C. Michael Spero
Warren Eisenberg
Jacqueline Levine
Joan E. Spero
Rabbi David Ellenson
Hon. Mel Levine
Marc Stanley
Ambassador Edward E. Elson
Risa A. Levine
Susan Stern
Alfred Engelberg
Rabbi Robert Levine
Judith Stern Peck
Rabbi Edward Feinstein
Rabbi Joy Levitt
Cary Sucoff
Irwin S. Field
Geoffrey H. Lewis
Joel D. Tauber
Rabbi Karen L. Fox
Robert K. Lifton
Roger Tilles
Hon. Barney Frank
Deborah E. Lipstadt
Bob Unger
Henry A. Freedman
Dana Linden
Jeanie Ungerleider
Brad Friedman
Jonathan Lopatin
Rabbi Burton L. Visotzky
Stanley Friedman
William Mack
James E. Walker, III
Rabbi

Laura Geller

Rabbi J. Rolando Matalon
Howard Weingrow
Michael Gelman
Peter May
Melvyn I. Weiss
Susie Gelman
Mike Medavoy
Barry A. Weprin
Ernest Ginsberg
Donald Meltzer
Martin J. Whitman
Stanley P. Gold
Robert B. Menschel
Elaine Wolfensohn
Jeremy S. Goldberg
 Robert Merson
James D. Wolfensohn
H.P. Goldfield
Arthur Miller
Musa Yenni
Abner Goldstine
Irving Morris
Rabbi Eric Yoffie
E. Robert Goodkind
Harriet Mouchly-Weiss
Michael D. Young
Bob Gordon
Burt Neuborne