PALESTINIANS LOSS OF LAND 1946-2013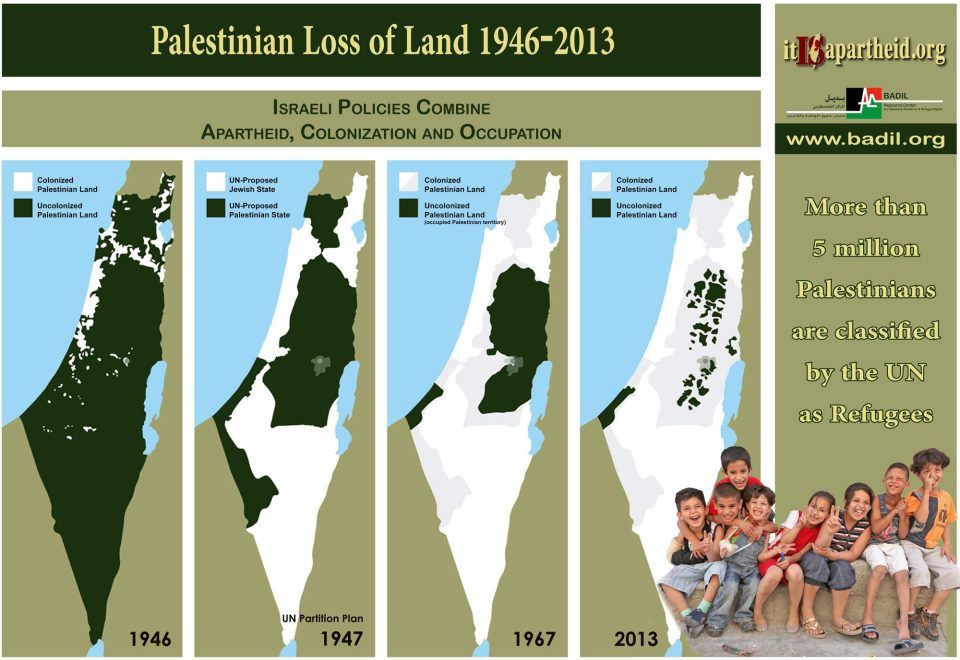 Published on Apr 21, 2013
An analyst says 60 years of Israeli crimes against human rights with no accountability has produced an entity of supremacists and racists that the world is getting very sick of. In the background of this a video has surfaced of armed Israeli soldiers firing shots as they walk through a Palestinian neighborhood, using a hand-cuffed Palestinian boy as a human shield. Rights groups have accused Israel on previous occasions, claiming that Israel uses Palestinian teens as human shields with impunity.
Press TV has interviewed Mark Glenn from the Crescent and Cross Solidarity Movement, Idaho about this issue.
Follow our Facebook on: https://www.facebook.com/presstvchannel
Follow our Twitter on: http://twitter.com/presstv
Follow our Tumblr on: http://presstvchannel.tumblr.com
HIDDEN CAMERA EXPOSES Zionist War Rhetoric in American Schools
Published on Dec 16, 2012
http://www.palestinebedrockoftheworld.com/where-is-your-soul-president-obama/
Do you know why America loss the Vietnam war?
Vietnam won the war because the Vietnamese soldiers fought like men with great pride for their homeland and courage to die for their cause even though they did not have good weapons, in short, they were not afraid to die for their country. Although America got all the best military weapons available at their disposal yet they lost the war, simply because American soldiers had no conviction, courage and pride!!
Why the American government is using drones to kill people and worst of all legitimize it by giving medals to their soldiers who sit in his comfort zone from far away place to kill people?
I can give you the answer but I prefer to ask where are the American soldiers 'balls'? Because real men have balls by fighting on the ground and not hide from above using drones to kill people?
Now President Obama uses the drones because his soldiers are afraid to DIE! If they are not they should fight like men on the ground one to one. But instead his soldiers attack from far away places using drones to kill people because they are COWARDS!
Israeli Connection: Organ trade from Palestinians
Published on Apr 13, 2013