"Zionist Israel is amply demonstrating, by their evil actions, that those who would murder Palestinians in Gaza are true Demons and Zionist Israel is a true Demon. Yet, as all the world leaders remain silent in the face of these atrocities by Israel, does that inaction not make these world leaders Demons just like Israel?"
– NUR MARYAM FALASTIN CHONG
Is The Control of Gaza's Offshore Gas Reserves A Factor In Israeli Military Operations?
Published on Aug 17, 2014
Nafeez Ahmed: As Israel's energy issues become more pronounced, repeated military incursions into Gaza show that dominating and exploiting its offshore gas reserves is an increasingly
important issue
Blood for gas: Why Bibi is punishing Gaza
http://rt.com/op-edge/172524-bibi-punishing-gaza-ethnic-cleansing/
http://www.666singularity.com/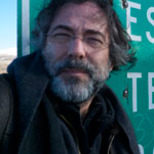 Pepe Escobar is the roving correspondent for Asia Times/Hong Kong, an analyst for RT and TomDispatch, and a frequent contributor to websites and radio shows ranging from the US to East Asia.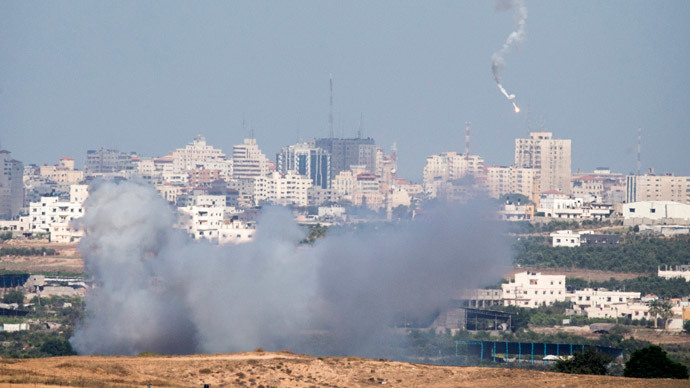 WHEN ARE THE WORLD LEADERS GOING TO WAKE UP AND TAKE ACTION? ARE THEY GOING TO WAIT FOR THE EVIL ZIONIST ISRAEL TO STRIKE THEIR CHILDREN BEFORE THEY ACT?
SCUMBAG NATANYAHU BUYING TWEET TO START GROUND OPERATION IN GAZA!!
Using public relations efforts to build public support for military action is not a new idea. But spending money on tweets to shape global perceptions may be the next frontier for such efforts. Hayes Brown, Editor at ThinkProgress, posted this screenshot of a promoted tweet from the official Twitter account of the Prime Minister of Israel, seeking to build support for an escalation of Israeli military operations in Gaza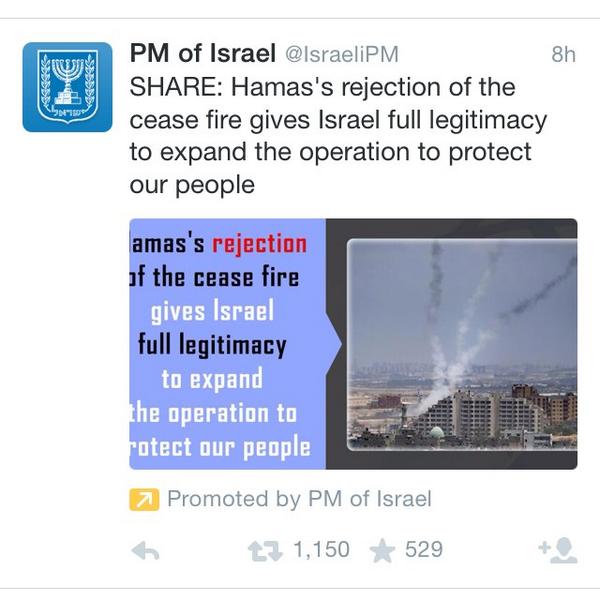 When reporting becomes a weapon of mass deception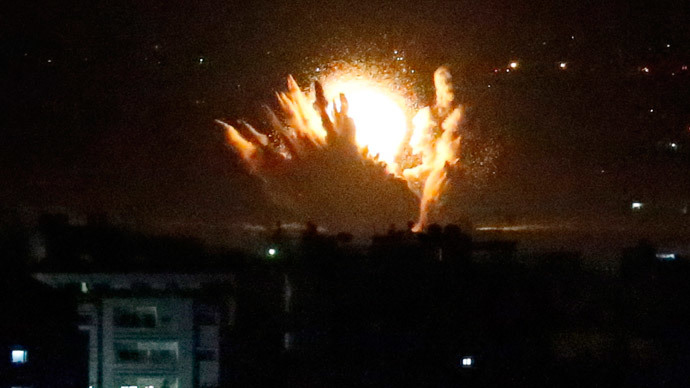 Israeli prime minister Benjamin Netanyahu has ordered the military to start a ground operation in Gaza, his office has announced.
"The prime minister and defence minister have instructed the IDF to begin a ground operation tonight in order to hit the terror tunnels from Gaza into Israel," the statement said.
FOLLOW UPDATES on Israel's military offensive in Gaza
Younes Arar added 3 new photos.
http://www.buzzfeed.com/dorsey/israeli-crowd-cheers-as-missile-hits-gaza-live-on-cnn
CrossTalk: Gaza Under Siege
Published on Jul 16, 2014
http://www.msnbc.com/andrea-mitchell-reports/watch/middle-east-conflict-highlights-historic-turmoil-305234499832
Report Israel Conditions http://mondoweiss.net/2014/07/report-israel-conditions.html
Gaza where you have 58 seconds to Live http://smpalestine.com/2014/07/11/gaza-where-you-have-58-seconds-to-live/
Must Watch! Bombing During Funeral! http://youtu.be/P0XgBttK8Zc
Israeli strikes kill boys on Gaza beach http://www.stuff.co.nz/world/middle-east/10275632/Israeli-strikes-kill-boys-on-Gaza-beach
http://www.nytimes.com/2014/07/17/world/middleeast/through-lens-4-boys-dead-by-gaza-shore.html?smid=tw-share&_r=0
Israel targets homes Senior Hamas leaders http://news.yahoo.com/israel-targets-homes-senior-hamas-leaders-052443022.html
en.wikipedia.orgA flechette/flɛˈʃɛt/fleh-SHET is a pointed steel projectile, with a vaned tail for stable flight. The name comes from French fléchette, "little arrow" or "dart", and sometimes retains the acute accent in English: fléchette.
This kind of weapons forbidden internationally, Israel used it before half an hour from now, in the east of Khan Younis -KHUZAA
*
Israel must be held accountable for its collective punishment of Palestinians
Why we should stop calling for restraint between Israel and Palestine
http://www.independent.co.uk/voices/comment/why-we-should-stop-calling-for-restraint-between-israel-and-palestine-9584143.html
If both sides were evenly matched then it would be appropriate — but they aren't. In the wake of the latest appalling flare-up in violence between Israel and Palestine, the buzzword among international leaders has been "restraint". In most conflicts, this would seem like the obvious solution. But in this case, there is a problem with the word.Calling for restraint on both sides frames the situation as an equal conflict, with two sides inflicting near equal amounts of violence on each other.This is simply not the case. The Israel-Palestine situation is not a fair battle, but a prolonged process of colonisation by Israel which that has led to a brutal occupation of the Palestinian people.
"The Jews most famous rabbi, Maimonides (Moshe Ben Maimon) wrote a book called "More Nebochim," a new edition was printed in Warsaw in 1872. In it Maimonides wrote: "it is undoubtedly the will of Yahweh that ALL GENTILES should be murdered, including small children with their parents and parents' parents with out discrimination. This decree is often found in the Torah." (Op. cit… Vol. 1, chpt. 54, p. 81b)………BUT in the Babylonian TALMUD, it is written: The saying of rabbi Simon ben Yohai, he said: "Tob shebe goyyim harog." (Even the best of the gentiles should be killed)
…http://www.rense.com/general79/talmud.htm
SO NOW YOU KNOW WHY THE EVIL ZIONIST JEWS ARE KILLING ALL THE CHILDREN IN PALESTINE? THERE IS NO END TO THE VIOLENCE IN THESE BLOOD THIRSTY DEMONS BECAUSE GREED AND EVIL IS IN THEIR DNA!
Press Tv: On Israel's Genocidal
Nature HELLO ZIONIST JEWS, Why you keep changing the link? This is the correct one!
http://www.gilad.co.uk/writings/press-tv-on-israels-genocidal-nature.html
Updated: Israeli mass arrest campaign since 12th June 2014
UFreeNetwork | MediaCentre
639 Palestinians including 11 MPs and dozens of ex-detainees were detained so far since Israel started its arbitrary mass arrest campaign throughout occupied West Bank on Thursday evening 12th June 2014.
44 arrests were carried out last night in different parts of occupied West Bank including the activist in prisoners' issue Bushra Al-Tawil.230 arrests were carried out in Hebron, while 102 arrests were reported in Nablus. 61 Palestinians were detained in Ramallah, 62 detainees were documented in Jenin and 25 others in Tulkarm, while 14 Palestinian citizens were arrested in Qalqilya.85 Palestinians were also detained in Bethlehem, while 39 from Jerusalem were detained. Including 10 arrests were reported in Tubas town near Nablus, and 10 others in Salfit city near Nablus, while one Palestinian was detained in Jericho.
UFree Network | An independent European-wide human rights network, set up to defend the rights of Palestinian political prisoners and detainees.
Join | Share | Like:
Join our mailing-list:
For all media enquiries, call: 00447721490579 | 004746728978 | 00442081236682 | secretary@ufree-p.net